Manokwari govt to extend Rendani Airport runway
Rendani Airport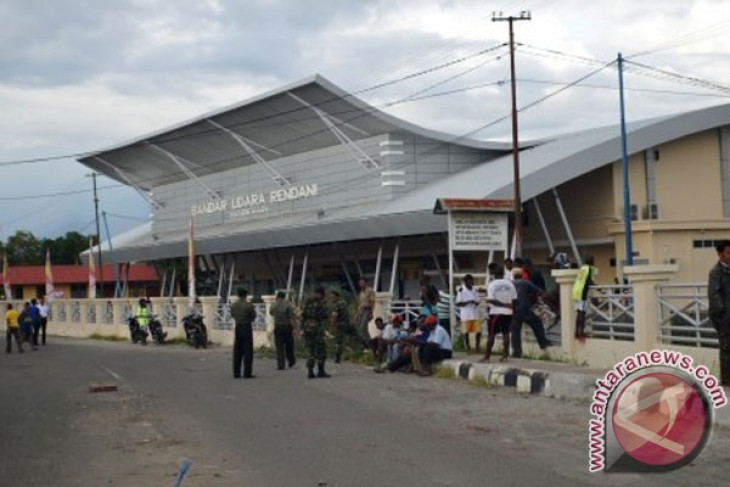 "We are now approaching the local people to procure some 500 meters of land …"
Manokwari (ANTARA News) – The local government of Manokwari District, West Papua, is prioritizing the completion of the runway extension project of Manokwaris Rendani Airport this year to accommodate larger airplanes such as Boeing 800-series.
"We are now approaching the local people to procure some 500 meters of land in the western part of the airport in order to extend its runway," Manokwari District Head Bastian Salabai said here on Sunday.
He said that Manokwari was the provincial capital of West Papua and its airport should be able to accommodate larger planes. Therefore the runway of Rendani aiport should be extended by about 500 meters.
"Transportation Minister Ignasius Jonan when visiting Manokwari recently agreed to the extension of the airports runway by 500 meters," the district head said.
The funds for the project will be taken from the state budget allocated by the transportation ministry, he said.
Salabai did not reveal the amount of funds needed to develop the runway extension project but he hoped it would be finished by December 2015.
(Uu.A014/F001)
Notes
A former Dutch colony, West Papua was formally incorporated into Indonesia in 1969, after an undisputed vote of about 1,025 representative tribal leaders. The result of the plebiscite was overseen and endorsed by the United Nations.
Since the democratization in 1998, especially since 2007, democracy by mean of elections has been introduced to increase political participation in the two provinces. The fact that the leaders of Papua and West Papua provinces are democratically elected by the people has strengthened the legality of the region as a province of Indonesia.
During the Abdurrahman Wahid administration in 2000, aside from changing the province name from "Irian Jaya" to "Papua", Papua gained a "Special Autonomy" status, a political compromise between Papuans and the central government.
The political will of politicians in Jakarta to proceed with the implementation of the Special Autonomy was formalized in 2001 with the special autonomy law.
Special autonomy is part of democratic means to address aspiration of Papuan people. In late 2001, Indonesian government introduced a "special autonomy" bill for West Papua. The bill, which was drafted mostly by indigenous Papuans, passed the Indonesian parliament as Law No. 21 in November 2001.
This Blog has gone through many obstacles and attacks from violent Free West Papua separatist supporters and ultra nationalist Indonesian since 2007. However, it has remained throughout a time devouring thoughts of how to bring peace to Papua and West Papua provinces of Indonesia.