UN bans Benny Wenda to enter UN general assembly: Nick Meset
Benny Wenda banned from UN
29th September 2019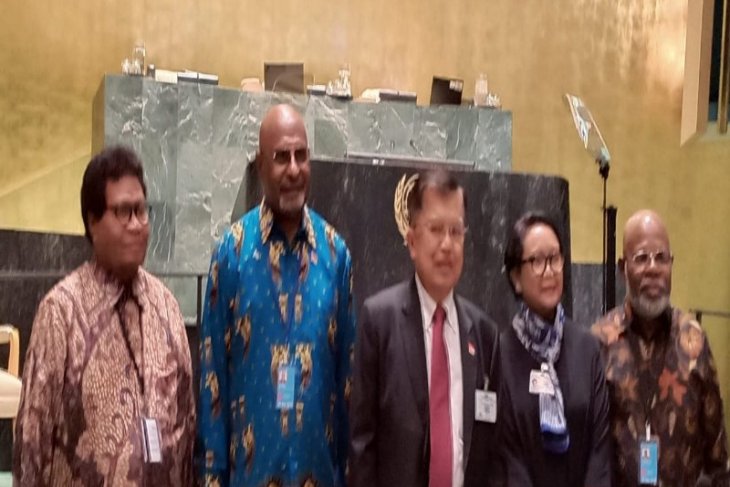 It is not true that Benny Wenda has joined the UN General Assembly as a member of Vanuatu's delegation because the UN only allows state representatives to enter the UN General Assembly in New York
Jayapura (ANTARA) – Papuan figure Nick Meset ensured that the UN did not allow Benny Wenda and his entourage to enter the UN General Assembly hall and join a delegation from Vanuatu because he was not a citizen of that small country.
"It is not true that Benny Wenda has joined the UN General Assembly as a member of Vanuatu's delegation because the UN only allows state representatives to enter the UN General Assembly in New York," Nick Meset told ANTARA on Sunday.
To continue please read here
Notes
Located on the western half of the island of New Guinea and long racked by a simmering violent separatist insurgency, Papua encompasses Indonesia's two easternmost provinces.
A former Dutch colony, West Papua was formally incorporated into Indonesia in 1969, after an undisputed vote of about 1,025 representative tribal leaders. The result of the plebiscite was overseen and endorsed by the United Nations.
Since the democratization in 1998, especially since 2007, democracy by mean of elections has been introduced to increase political participation in the two provinces. The fact that the leaders of Papua and West Papua provinces are democratically elected by the people has strengthened the legality of the region as a province of Indonesia.
This Blog has gone through many obstacles and attacks from violent Free West Papua separatist supporters and ultra nationalist Indonesian since 2007. However, it has remained throughout a time devouring thoughts of how to bring peace to Papua and West Papua provinces of Indonesia.